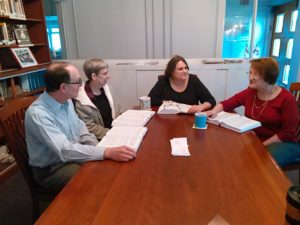 Nearly every Friday morning, the sweet aroma of challah baking in the oven fills the halls of our synagogue. Rabbi Drorah Setel and temple members and guests are in our temple kitchen baking challah together. The challahs will be presented and eaten later that evening during the oneg that follows our Friday evening Shabbat services. Challah baking and eating – not a bad metaphor for our Temple Emanu-El members: we're a participatory, hands-on group of people who like to "do Jewish" together.
Temple Emanu-El is a Reform Jewish community, deliberately kept small and informal, with a focus on learning, worship, and friendship. We offer free admission – no tickets, no fees – to our High Holiday services and events in the hope that newcomers will feel especially welcome to join with us on these holiest of days. But we also offer so much more… the joy of attending our Tashlich-by-the-lake, noshing under our Sukkah, dancing on Simchat Torah, enjoying latkes and a dozen simultaneously lit menorahs at Chanukah, participating in the mid-winter Celebration of the Trees on Tu B'Shevat, masquerading at our Purim megillah reading and carnival, being part of our annual congregational Passover seder, and relaxing with Friday evening deep breaths to pause and honor Shabbat each week. 
Rabbi Setel leads a Chevra Torah Study group every Saturday morning and Hebrew and Judaism classes throughout the year. We offer a unique, individualized Hebrew program for kids and teenagers – Hebrew School without Walls – and an intergenerational program, Dorot (Generations) every month. We have a dedicated book group, a men's club, a spirited chorale, and brunches with lectures throughout the year.
We invite you to wander through this website and get to know us. Better yet, please feel warmly invited to come to any of our events and services. We would love to meet you!