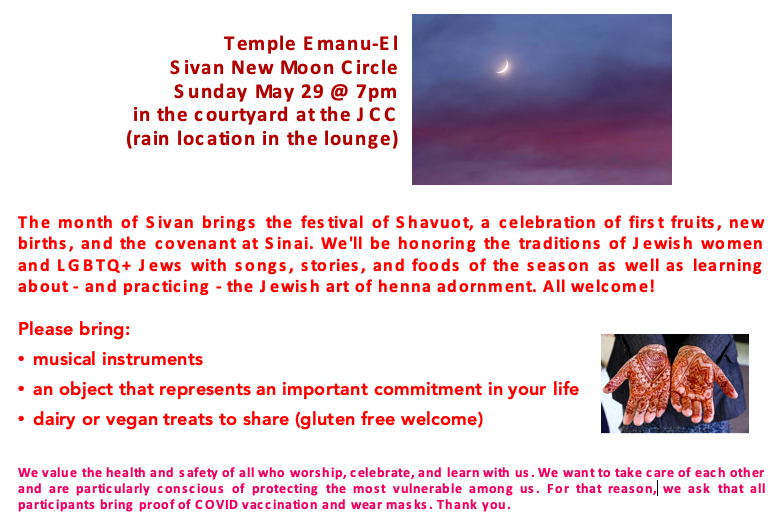 קהילת עמנו אל
K'hilat Imanu El – Our Emanu-El Congregation
תקון אולם
Tikkun Olam
Mending the World
Shalom and thanks for visiting our Temple Emanu-El website
We are a Reform Jewish Congregation in Rochester, New York. Our members are Jews by birth, Jews by choice, and those drawn to Judaism, including multiracial, LGBTQ+, and interfaith households. We see ourselves as a family, where everyone's participation is sought and appreciated. We invite you to attend our services and events, and share in our warm, informal approach to Reform Judaism.
This week at Temple Emanu-El
Friday, May 27, 7pm
Saturday, May 28, 9:30am and 10:35am
Sunday, May 29, 7pm
See our full calendar of services and events.
Our Covid-19 Policy
We value the health and safety of all who worship, celebrate, and learn with us. We want to take care of each other and are particularly conscious of protecting the most vulnerable among us. We expect that our covid policy will evolve as covid conditions evolve. Therefore, the descriptions of each of our in-person services and events will include a description of what our covid policy is at the time the service or event will be held.
Thank you for your understanding and cooperation.


Rabbi Drorah Setel's May 25, 2022 Message
As we approach summer and the Jewish month of Sivan, we can understand our ancestors' decision to observe the festival of Shavuot when new life is emerging in both the plant and animal worlds. When the rabbis imagined the people of Israel standing at Sinai to receive the Torah, they pictured the wilderness bursting into flower. Perhaps they intended it as a metaphor for understanding the path of Torah as a means to allow human beings to blossom as well. It is customary in many Jewish cultures to decorate both the home and the synagogue with fresh flowers and leafy branches to commemorate Shavuot in this way.
Click here to read the entire message.
Also from Rabbi Setel
Here are Jewish resources for those wishing to respond to the situation in Ukraine:
HIAS –
www.hias.org
. HIAS is a refugee aid organization currently working with the Kyiv-based NGO Right To Protection (R2P), which has 162 staff members on the ground as well as organizations taking in refugees in Poland and Moldovia.
World Union for Progressive Judaism – www.wupj.org. For those wishing to donate specifically to the Ukrainian Jewish community, Temple Sinai's Cantor Renata Braun (born and raised in Ukraine) recommends giving to the WUPJ Ukraine Crisis Fund.