Shabbat Service Motzi

Simchat Torah

Chevra Torah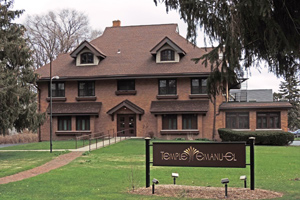 Shalom and thanks for visiting our Temple Emanu-El website. We are a Reform Jewish Congregation in Irondequoit, New York, a few minutes from downtown Rochester.
We feel fortunate that we share a rich heritage, a vital Jewish community life, and a promising future. Our congregation reflects the diversity of today's society – we invite you to share in our warm, informal approach to Reform Judais
To find out more about our congregation, please click "About Us" on the menu bar. Better yet, come visit us.
Friday, November 2, 7:30 PM – Shabbat service, including birthday blessings.
Friday, November 9, 7:30 PM – Shabbat service, followed by discussion oneg – Tikkun Olam
Friday, November 16, 6:00 PM – Short musical Shabbat service, followed by a potluck dinner
Friday, November 23, 7:30 PM – Shabbat service 
Friday, November 30, 7:30 PM –  Herzbrun Chorale Mini-concert following service.


Prayerbook Hebrew
Sundays, November 4, 11 and 18 at 9 AM
(Re)Introduction to Jewish History
Sundays, November 4, 11 and 18 at 9:30 AM




 

Friday Morning Challah Baking
November 2, 9, 16, 23 and 30,  9:00 and 11:00 AM
Shabbat Morning Chevra Torah
November 3, 10, 17, and 24, 10:00 AM
Herzbrun Chorale Rehearsals
Saturdays, November 3, 10, and 17, 11:30  – 1:30 PM and Tuesday, November 28, 7 – 8:30 PM
Tikkun Olam Team Meeting
Sunday, November 4, 12:30 PM 
Dorot (Generations) – at Memorial Art Gallery
Sunday, Novembar 4, 1:30 PM
Men's Club
Tuesday, November 13,  9:00 AM at Panera's  
Musical Shabbat Service and  Potluck Dinner
Friday, November 16, 6 PM. RSVP on-line
Books and Bagels
Sunday, November 18, 11 AM 
RSVP on-line
Hanukkah Celebration and Potluck Dinner
Friday , December  7, 6 PM. RSVP on-line

 

 

 

Found on our synagogue steps
after the tragedy at the 
Tree of Life * Or L'Simcha synagogue

Photo by Rabbi Setel

More in the Gallery

 

No more sitting in class! Our Hebrew School without Walls is an experiential model that engages families with children to "do Jewish" together. Along with monthly arts, text study, cooking, and more, it includes individualized Hebrew reading instruction and bar/bat mitzvah preparation, summer camp, and Israel experience.