Welcome to Temple Emanu-El!
Click here for Rabbi Setel's Oct 21 message. Check out our worship services and programs – we'd love to have you join us!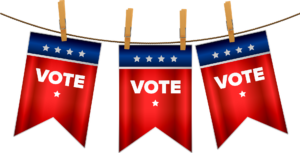 Make Your Vote Count
The outcome of the 2020 election will determine how the many challenges facing our nation and our local community will be handled. Help us reach our goal to be a 100% voting congregation and let your voice be heard!

Decide right now that you will vote, and sign a voting pledge by clicking here. Early voting runs from Saturday, Oct 24 – Sunday, Nov 1. Click here for our Tikkun Olam Team's Voting Guide. Click here to visit the Monroe County Board of Elections for any last-minute updates. 
קהילת עמנו אל
K'hilat Imanu El – Our Emanu-El Congregation
עבודה
Avodah – Celebration
תקון אולם
Tikkun Olam – Mending the World
Shalom and thanks for visiting our Temple Emanu-El website
We are a Reform Jewish Congregation in Rochester, New York, a few minutes from downtown. Our members are Jews by birth, Jews by choice, and those drawn to Judaism, including multiracial, LGBTQ+, and interfaith households – we invite you to share in our warm, informal approach to Reform Judaism. We share a rich heritage, a vital Jewish community life, and a promising future. We worship together, study together, work together to better the larger community, and often get together simply because we enjoy each other's company. We see ourselves as a family, where everyone is appreciated, no matter who they are or how they celebrate Judaism. Our worship services are low key and personal, and always include time for sharing news about our lives. We'd love to welcome you to a service or event.