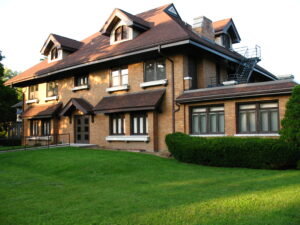 Our Irondequoit building was built in c. 1919.
The architect was Joseph Oberlies and the house was originally built as a private residence for Adam Norwich, a clothing company executive.
The building was later used in the 1930's? – 1949 as the rectory of St. Margaret Mary's Catholic Church.
The Catholic church sold the rectory in 1949 to Wallace J. Geck, who owned the building until 1954. A Democrat and Chronicle article from April 16, 1954 reported on the sale of the building, saying, "Geck, a Catholic and member of St. Margaret Mary's parish, said he had no intention of selling the house until he was approached by the [Temple Emanuel-El] congregation. Geck said he agreed to sell because he approved of the building being used as a house of worship. Temple Emanu-El's congregation, which has been holding services in Unity Recreation Hall across the street, recommended to move to occupy the old Norwich house." The subsequent renovations to the building were designed by mid-century architect Michael DeAngelis.
Temple Emanu-El owned the building and enjoyed using it from 1954 – 2021.
Thanks to Cynthia Howk, Architectural Research Coordinator at The Landmark Society of Western New York, for this history.
To return to the Our History page, click here.