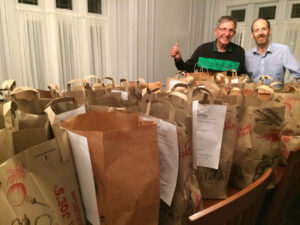 In Torah we read: "And when you reap the harvest of your land, you shall not reap all the way to the edges of your field, or gather the gleanings of your harvest; you shall leave them for the poor and the stranger. I the Eternal am your God." (Leviticus 23:22) What does this mean to us? After all, most of us are not farmers with fields where we grow food. Instead, we can interpret the verse as meaning that, as Jews, we have an obligation to help feed the hungry and help the poor. In this spirit, we at Temple Emanu-El donate food to local pantries both during the High Holidays and throughout the year.
This High Holiday season, we will again run our High Holidays Food and Clothing Drive by handing out empty bags on Rosh HaShanah and asking you to return them filled on Yom Kippur.
Suggested items:
food: beans (pinto, navy, chili, black), cereal, milk (evaporated, powder, condensed), fruit (canned or boxed), healthy snacks (granola bars, crackers, etc.), juice (canned or boxed), pasta, pasta sauce, peanut butter, rice, soups, tomatoes (canned or boxed), canned tuna, vegetables (canned or boxed), regular ground coffee, canned peaches and pineapple in their own juices, canned beets and spinach, mashed potato pouches, strawberry jelly
baby items: formula, diapers, baby food, wipes
household items: laundry and dish detergent, sponges, dish towels
paper products: facial tissues, toilet paper, paper towels
personal care items: body soap, lotion, toothpaste, toothbrushes, deodorant, shampoo, conditioner, feminine hygiene, towels
new clothing, including shoes
used clothing, including shoes
We will take new clothing and shoes to House of Mercy. Other collections will go to Brighton Food Cupboard, Irondequoit Community Cupboard, and Goodwill.
Thank you!
Return to our High Holidays Page