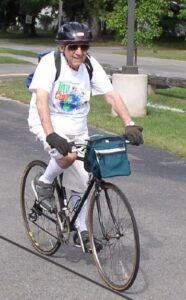 Bert Butler z'l, with his wife Sylvia Butler, was an active member of Temple Emanu-El since joining in the 1950s. During the 1960s and 1970s, Bert was our Treasurer, Finance Chair, and President. For many years, he was also the chair of the Cemetery Committee, and he never missed an opportunity to let us know that he held a grave position and was worried that the cemetery only had a skeleton crew available.
Bert and Sylvia were brunch chefs for many years and Bert helped with sukkah raising, retreats, and picnics. With Bert's gift for gab, he was great at helping to solicit door prizes.
Carl's photo shows Bert at 90 years old.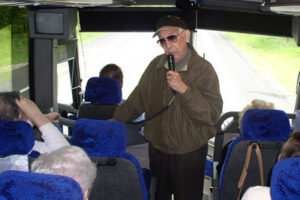 Bert loved to tell jokes and did not miss an opportunity to do so. During our bus trips to Safe Haven in Oswego in 2006, and to Toronto to see a Dead Sea Scrolls exhibit in 2009, he grabbed the microphone at the front of the bus and spontaneously entertained us with a polished series of jokes. At the end of many Yom Kippur services, Rabbi Mike Herzbrun z'l would place members around the sanctuary to blow their shofars – Bert always pushed to be the one who held the final note the longest. (He had plenty of air – whenever there were kids around, he made balloon animals for them.)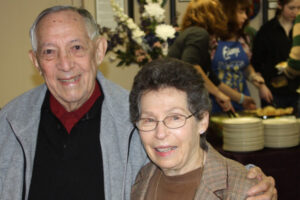 Bert was born in Buffalo in 1922 and passed away in 2020 just after his 98th birthday. He never seemed to lose his positive attitude to life; in the hospital about a month before he passed away, he was still telling jokes to the staff. When he went into home hospice, he insisted that we have a party, with or without him.
He loved Sylvia, his wife of 78 years – he met her at a party when she was 14 and he was 17 – he knew right then and there that he would marry her one day. When he opened his accounting office, she worked with him there; thus they were together 24/7. He was proud when she opened her own business, without any previous experience, financing auto insurance premiums. (Her business was successful until New York State changed the applicable rules). They have three kids, Paula, Brad (m Marnie), and Ausher (m Paulette); and three grandsons, Levi, Hillel, and Zedek.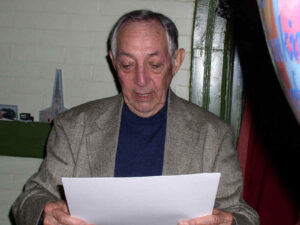 Bert was proud of his country and volunteered for the army during World War 2, getting married before reporting. He was stationed on Okinawa with the forces that were set to invade Japan. (His patriotism led him to complain about sports figures who recently knelt at the playing of the national anthem.) His one request prior to his death was that he have a flag on his casket; thus, a military funeral honors ceremony was held that included folding and presenting a United States burial flag to Sylvia and the playing of "Taps."
After the war, he earned his accounting degree at the University of Rochester on the GI bill – he never wanted to work for anyone, so he opened his own accounting practice and made a success of it. He was proud of being able help his clients with any tax problems, often softening up tax agents with his jokes. He was Irondequoit town auditor for both Democratic and Republican administrations.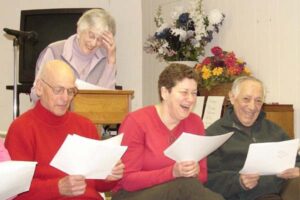 Bert and I were at opposite ends of the political spectrum, and we had many heated debates. Every Wednesday morning, he used to pick me up at 6:45 AM (an un-godly hour for me) to meet Mike Cherney z'l and Marv Friedman at the Charbroil for breakfast. One morning, I opened the car door (half asleep) and before I was even in the car, he yelled, "Why do you vote the way you do?" At high speeds on the expressway, the argument went on with Bert waving both hands in the air. But when we sat down for our coffee, we said, "Enough – it's time to talk of other things." So, we could argue and argue and yet stay friends. And what I discovered is that his positions came out of his love for our country – he was convinced that the opposition candidate(s) would ruin the country.
Bert, Sylvia and I spent many a Sunday bicycling – occasionally we took overnight trips. On one such trip to Geneva, Bert looked for accommodations; his report: "No Room at the Inn." What to do? Bert knew how to talk to people – at one place we stopped, he found out that the lady at the desk would be there all night, so after a joke or two, we wound up staying in her apartment for the night.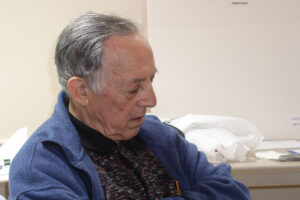 More about biking….One year, the Butlers and the Wetzsteins went on a vacation on Martha's Vineyard. On day one, Bert hurt his back and went to Emergency at the local hospital where he told jokes to the doctors and nurses while they fixed him up and told him to take it easy for a few days. What, take it easy? NO – he had heard that there was a nude beach on the island, so the next day we got on our bikes and headed there. Yes, people were nude, but other than that, it was just a normal beach, nothing untoward going in. (People have asked if we took off our own clothes – we'll never tell.) On the way back, Bert must have been thinking about the beach, lost control of the bike, fell off, and headed back to Emergency. He had broken his collar bone.
[Photos and text by Carl Wetzstein]