Adult Education Team Online
Next meeting TBD
Our Adult Education Team has re-formed and we need you. If you are interested in helping to plan adult education activities for Temple Emanu-El or have any questions, email Jon Rubin (jrubin566@gmail.com).
---
Board of Trustees Meeting Online
3rd Tuesday of the month, 7pm – next meeting Apr 18 via Zoom
Our Board meetings are open to all current Temple Emanu-El members. To login by phone, call 1-929-205-6099 and use meeting ID 848 0442 4414. [Photo: Our 2021 Board in the time of Zoom]
---
Books and Bagels
One Sunday a month, 10am – next meeting Apr 23 via Zoom
We discuss books of Jewish interest; bring a book to present or come to discuss the books that others bring. To join our discussion by phone, call 1-929-205-6099 and use meeting ID 833 6569 0413. To zoom into our online discussions, click on the button below. [Photo by Suzy Hazelwood, curtesy of pixels.com]
---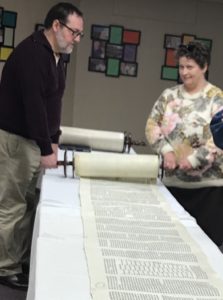 Chevre Torah Study
Every Saturday
Chevre Torah provides an in-depth discussion of the weekly Torah portion and highlights from the other books of the Bible, combining traditional commentaries with contemporary perspectives and the wisdom of our own experience. No prior knowledge of the texts is assumed. For the Hebrew blessing for Torah study, click here: blessing. 
Next meeting Saturday, Apr 1 via Zoom 
From 10am – 10:55am – Isaiah 51:1 – 52:12. The prophet continues to speak about suffering and redemption. The people lament God's apparent absence, pleading for God to finally wake up and help (51:9).  Experience of God's hiddenness or absence is recurrent through Jewish history.
From 11:05am – 12noon – Leviticus 1:1 – 3:5  and  Leviticus 6:1 – 7:10. Leviticus has been viewed traditionally as the most important of the Biblical books, and was the first taught to children. We will cover two portions, both concerning rituals intended to preserve harmony and ethics in society. The "burnt offering" (olah) is described in the first of these portions; it was originally referred to in English as "holocaust." Notably, the text gives no reason as to why this act is done. The often used translation "sacrifice" is a Christian word that does not correspond to the Hebrew (korban), which really means "to come close" to the Divine.
To login by phone, call 1-929-205-6099 and use meeting ID 879 4421 7321. [Photo: Charlie and Charly unrolling our Torah scroll on Simchat Torah]
---
Hebrew for Adults Online
Thursday evenings via Zoom
7pm – Beginning Hebrew – By the end of this course, you'll be able to pronounce (decode, read aloud) any Hebrew word and also know the meaning of a number of Hebrew words that are important in our liturgy.
8pm – Prayer Book Hebrew – For adults who can read (decode) Hebrew. We basically stroll through the Shabbat prayer book, discussing the service, words, and meanings, with time for reading practice as well.
The courses are open to everyone. They are free for Temple Emanu-El members; non-members are asked to make a donation from their hearts. Contact Leslie Schwartz (schwartzljs@gmail.com) for more information and if you are interested in attending one of the 2022-2023 courses. [Graphic by Emma Rhodes of Emma Tang Designs]
---
Hospitality Team Meeting Online
1st Tuesday of the month, 7:30pm – next meeting Apr 4 via Zoom
All are welcome. To login by phone, call 1-929-205-6099 and use meeting ID 889 6805 3220. [Photo: At our 2018 Summer Picnic, showing member Marty Neweroff, taken by member Carl Wetzstein]
Hospitality Zoom Link
---
Men's Club
2nd Tuesday of the month, 9am – next get-together Tuesday, Apr 11 at the Nutcracker Family Restaurant
The Nutcracker Family Restaurant is located at 2159 Empire Blvd, Rochester. Join us for breakfast and conversation. Call Michael Perlson (585-388-5211) if you need additional information. [Photo: Nutcracker Family Restaurant from nutcrackerrestaurant.com]
---
Opportunities for Learning taught by Rabbi Drorah Setel
–A Taste of Jewish Mysticism
Tuesdays: Apr 4, 11, 18, and 25 at 11am in the Erdle Lounge at the JCC
This series will give participants a broad overview of the history and teachings of Jewish mystical traditions, beginning with the Hebrew Bible and continuing to the present day. Session topics are: Early mystical teachings, Medieval mysticisms, Hassidic movements, and Modern mysticisms. Sponsored by Temple Emanu-El and Lifespan. All are welcome.
–Exploring Jewishness
Wednesdays, starting April 19
7 – 8pm via Zoom
This course offers an opportunity to examine the diversity of Jewish life and to engage with Jewish history and traditions from multiple perspectives. Our text will be Judaisms: A Twenty-First-Century Introduction to Jews and Jewish Identities by Aaron Hahn J. Tapper, which examines how Jews are a culture, ethnicity, nation, nationality, race, religion, and more. Each chapter of the book addresses a theme (such as Narratives, Mysticisms or Cultures) and illustrates how it is understood by different Jewish communities over time. This class is intended for anyone who wishes to understand Jewish identity as a multifaceted experience, whether learning about Judaism for the first time or wishing to bring their earlier learning up to date. Participants are asked to obtain a copy of the book and, if possible, read the first chapter (Narratives) prior to the first class.
If you haven't already registered for the course and are interested in learning more or signing up, contact Rabbi Drorah Setel  directly (716-876-5874, rabbisetel@gmail.com) after April 1. [Photo: Mystic Art Design curtesy of pixabay.com]
---

Spiritual Practices Team Meeting Online
2nd Tuesday of the month, 7pm – next meeting Apr 11 via Zoom
All are welcome. To login by phone, call 1-929-205-6099 and use meeting ID 852 6777 2051. [Photo by Temple Emanu-El Member David Kassnoff]
Spiritual Practices Zoom Link
---

Model Seder Volunteering Opportunity
Wednesday, Mar 29, 5 – 8pm at the JCC
The Jewish Family Service is putting on a Model Seder at the JCC for a group of developmentally challenged adults who live in Rochester. Temple Emanu-El members will provide the essentials for the Seder ceremony and help set up and serve the meal. We'd love to have you join with members of our Tikkun Olam Team in this effort – we need volunteers!! If you can help, please contact Carl Wetzstein (carlwetzstein38@gmail.com, 561-699-1494).
---