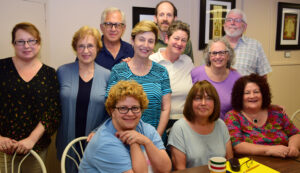 2018 Board of Trustees:
Seated, left to right: Charlene Sommers, Randy Perlson, Brenda Mudd; standing: Hillary Harter, Barbara Silverstein, Morrey Goldman, Judy Greenstein, Jon Rubin, Denise Lippa, Gail Vail, George Madden. Not pictured: Rosanne Cohen, Jule Rayburn, Carl Wetzstein, Mel Yessenow.
To return to the Our History page, click here.