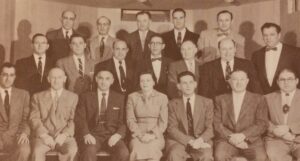 1953 Board of Trustees:
Seated, left to right: Harry Hamberg, Louis Goodman, Burton Greene, Sylvia Schulman (aka Mrs. Abe Schulman), Sol Balkin, Harry Finegold, Morton Brodsky; middle row: Hyman Maas, Charles Green, Norman Belfor, Max Brodner, Maurice Melin, Mike Sapozink, Shephard Byer; top row: Robert Fleisher, Garson Cohen, Julian Zweig, Arthur Kaufman, Sidney Lasser. Not present: Peter Mintz.
To return to the Our History page, click here.